Professional Profile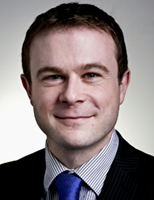 Dr Griffiths graduated from the University of Edinburgh in 2002. He went on to complete general medical training and acquired membership to the Royal College of Physicians in 2005. Following completion of specialist training in dermatology he was appointed as a Consultant Dermatologist at the West Middlesex Hospital before moving on to the Royal Free Hospital in June 2012.
He has a broad range of interests including rashes and acne, moles and skin lesions, skin cancer, skin surgery, psoriasis, pigmentation disorders and hair loss. In his role at the Royal Free Hospital he undertakes weekly general dermatology clinics, a psoriasis clinic, a skin lesion/mole clinic and a surgical list. In addition to his clinical duties he is lead of undergraduate teaching and actively participates in the education of doctors training in dermatology. He is clinical lead of the Phototherapy Unit and has a prominant role in clinical governance and audit.
He has written the dermatology chapter of an undergraduate medical student textbook, published a number of articles in peer reviewed journals and has written educational articles for Dermatology in Practice, a journal circulated to GPs and practice nurses throughout the UK. He has also worked as a reviewer for articles submitted to the British Journal of Dermatology and Clinical and Experimental Dermatology.
Dr Griffiths' private practice includes clinics at BMI Syon Clinic, the Royal Free Hospital Lyndhurst Rooms and a weekly cosmetic dermatology clinic in Westminster. He welcomes GP referrals, self-referrals and international patients. He is recognised as a provider for most insurance companies but is also happy to see patients who choose to self pay.
Professional Memberships
British Association of Dermatologists
Royal College of Physicians (London)
British Medical Laser Association
British Association for Dermatopathology
Royal Society of Medicine